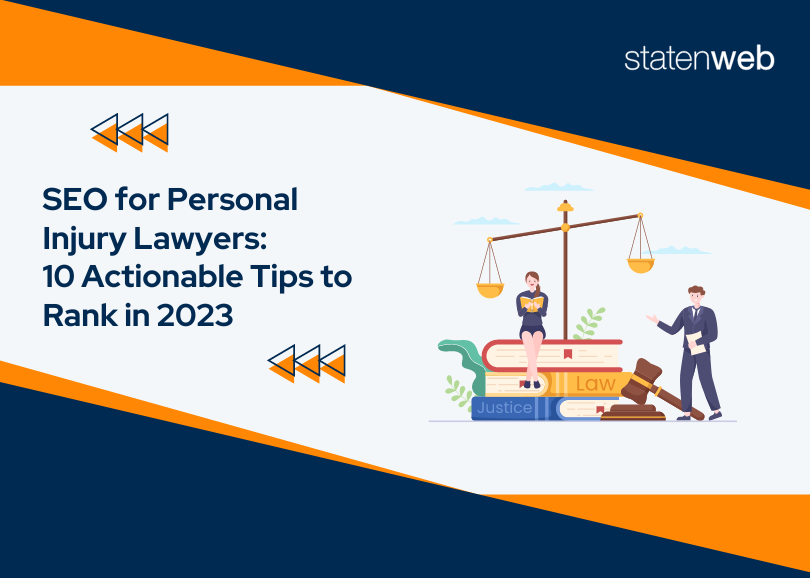 As a personal injury lawyer, your firm relies on building trust with potential clients. These clients are looking to be compensated for their injuries, and most are looking for help through a search engine like Google.
How can you make yourself more visible to these desired customers? According to The State of Local Marketing Report by Brandmuscle, 79% of law firms consider the most effective marketing channel to be SEO or search engine optimization.
SEO is used to help your website rank high in organic search results, as opposed to paid ads.
Using SEO best practices for the following topics will help your law firm to stand out from your competitors and generate more personal injury leads and revenue.
Website content
The first impression of your firm to your clients will be through your website content. Focus on including information that is valuable to your audience.
Include keywords relevant to personal injury law, such as "medical malpractice" and "workplace injuries." You can also focus on long tail keywords that would be specific phrases that interested clients would use, such as "medical malpractice personal injury lawyer near me."
NAP
Your Name, Address, and Phone Number (NAP) must be consistent throughout your website. This practice makes it easy for clients to find you, proving your firm is legit.
Citations
Like being listed in an online business directory, citations are crucial to SEO. Create a Google My Business (GMB) listing to appear more often when people search for personal injury lawyers using Google maps.
User experience
Give your potential clients a good user experience by checking that your website is easy to navigate. You can do this by having clearly labelled links, readable font sizes, and convenient dropdown menus.
Website design
The design of your website goes hand in hand with law firm SEO. Since over half of all website traffic comes from mobile phones, it is a must to design your website mobile-friendly. If the layout doesn't look clean when viewed on a mobile device, people will leave your site and move on to another one.
Another cause of people bouncing from your site is slow speed. Regularly check that your site is performing at an acceptable speed.
Competitor analysis
Law firm marketing strategies differ by city. A top-ranking competitor analysis of businesses in your area will give you a good idea of where to put your focus.
You should deduce what is working in your area and then use the strategies yourself, such as posting on social media or holding a quarterly webinar about trending personal injury law topics.
Conversions
To be a successful personal injury lawyer, you need to have a high conversion rate on your website. This could be any action where a user interacts with your website, such as subscribing to your newsletter or clicking through to another part of your website. You can accomplish this by keeping the site up-to-date and polished with valuable content and attractive images.
E-A-T
For SEO, E-A-T stands for Expertise, Authoritativeness, and Trustworthiness. When analysing your law firm website, Google will consider all three to determine if it is high-quality. Include information on your website that proves you are an expert in personal injury law, such as describing tort law in detail and listing the types of services you provide.
Buyer persona
A buyer persona is a potential client looking for any service you offer. By understanding and defining your customers' pain points, crafting a buyer persona would help you connect with them quickly and effectively.
These buyer personas should not be created on random characteristics but rather actual pain points people face when it comes to this type of law.
Some clients may have been injured due to negligence, while others were injured intentionally. Optimise your website by including information for all types of potential clients.
Target audience
What is your speciality–traffic collisions, medical malpractice, workplace injuries? Be sure to include content centred around your specialty to reach your target audience better.
You can also use SEO to attract customers from your target area. Creating a Google Business Profile will show that your business is legitimate, so you'll appear higher in a local search.
StatenWeb CTA
Let StatenWeb guide you with personal injury lawyer SEO. We can help you attract more clients with a mobile-friendly website built for your target audience that exceeds the performance of your competitors' sites.
We have created a comprehensive guide to SEO that is a great starting point for anyone looking to drive traffic to their site and into their doors.
These SEO best practices will allow accident victims to trust you in pursuing compensation for them. As a result, you will see more profit and be well-known as a trusted personal injury lawyer.