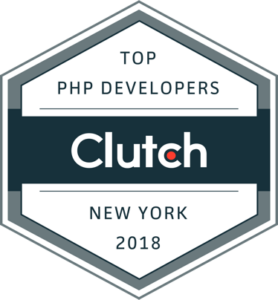 Recently, Clutch released their annual report of the top-performing agencies and developers in New York. Clutch analysts identified 204 companies that provide the best creative, design, and development services. Each company on the report was evaluated and ranked based on market presence, work quality, services offered and verified client feedback. We are proud to announce that when it comes to web development, StatenWeb has one of the top PHP developers in New York.
Located in the nation's capital, Clutch is a B2B ratings and reviews platform that conducts market research on agencies, software, and consultants in the IT industry. Clutch connects small and medium businesses with the best-fit companies they need to tackle challenges together and with confidence. With over 7,000 firms listed on the ratings platform, Clutch uses a unique rating methodology that compares these companies based on in-depth client feedback.
Clutch displays its research using a Leader's Matrix, a 2×2 matrix where service providers are mapped based on their areas of focus and their proven ability to deliver. Take a look below to see StatenWeb listed in the top 10 PHP development companies in the city!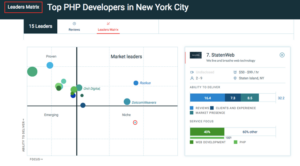 Two of our clients took the time to review our web design and development services and the feedback received was amazing! Both clients gave our services 5/5 stars and commended our responsiveness and our technical abilities. Take a look at the great feedback we have received below:
"…StatenWeb was available regularly, very reliable, pleasant to work with, and enthusiastic about the project being a success." – VP, Humanitarian Organization
"We're very happy with the services that they provided, and I know that we're going to be using them for the next outing. They got traffic to the site and helped the event be successful." – Senior Associate, Law Firm
THANK YOU
"The creative and development spaces are fast-moving fields," said Clutch Business Analyst Alaina Stevenson. "The ability to develop and design digital products and please clients is impressive. Congratulations to the 204 companies that have stayed on the cutting-edge of technology and continue to deliver outstanding services to their clients."
We would like to thank our incredible clients that took the time to review us on Clutch. Thanks to their honest feedback, Clutch analysts identified us as a company that delivers when it comes to our development services. As many of you know, our main goal is to develop user friendly websites and make lasting relationships with our clients. I think you can see that dedication if you browse through our Clutch reviews!
To learn more about our five-star rated services, make sure to contact us for more information!