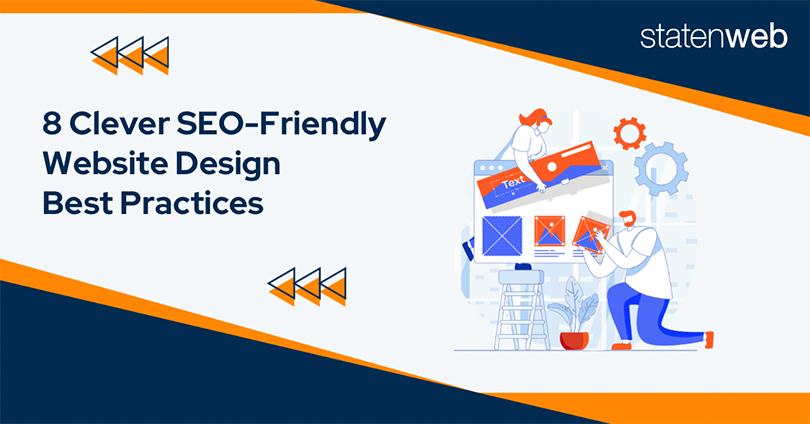 You've probably heard that your business website must look good and be designed with Search Engine Optimization (SEO) in mind to rank on search engines.
When optimising for SEO, it's best to try clever website design tactics to improve your organic search rankings. SEO is both a science and an art, and you must find what tactics work best for ranking your business.
Here are 8 clever ways to ensure your website is optimized for search engines.
1. Create quality user content for a better user experience
The phrase "content is king" is popular for SEO, and quality reigns over quantity. Google will value sites with blogs that have been carefully written, backed up by keyword research and with a target audience in mind over sites that host outdated or low-quality content.
Create quality content to increase brand awareness and keep your site visitors returning repeatedly. For example, when writing a blog, keep user experience in mind by using readable fonts, attractive design elements, and one specific call to action (CTA) so you don't overwhelm users with too many options.
Focus on increasing your business's visibility in local search results using local SEO. People will be more likely to choose your business if it appears in a trusted "near me" search on Google.
2. Optimize your website with social proof
It's human nature to want to be part of someone else's positive experience, and the idea translates well with websites. The more potential customers see other people engaging with your site, the more likely they'll want to do so as well.
Ever notice numbers at the top of blog posts or landing pages? You can post these social shares by downloading a plugin for your site, and they work especially well with WordPress.
The phenomenon is known as social proof and can be implemented in several ways. Try using customer social proof in the form of reviews, testimonials, and case studies. Host a webinar and invite industry experts to speak to establish authority in your field.
Post links to any press releases or mentions you've gotten in esteemed articles. Include any industry certifications or accreditations on your site. You can also include the logos of any of your product integrations.
3. Improve web design with readable text
The average human attention span is 8.25 seconds. When people visit your website, it will only take seconds for them to decide if they want to stay or not.
You can increase readability with SEO by ensuring that the content on your website is easy to read, understand, and navigate.
It's essential to use language that your customers understand, with simple language and terminology familiar to them.
You should include well-written alt text for your site image, as this text will appear to users if an image is missing.
4. Use headers to make your website easy to navigate
Use proper website headers to increase readability and break up large chunks of text. When multiple headers (H1, H2, etc.) are used, Google can more easily crawl a site and rank content accordingly.
Optimize site structure and design for a user-friendly experience with a hierarchical structure, which will keep the site organized and easy to navigate.
5. Fill out metadata for website SEO
Website metadata is HTML snippets used in web development to describe the content on a web page. It's crucial to spend time crafting metadata because search engines use it to deliver the most relevant information to users.
One type of meta tag is the title tag, which tells the purpose of your website. For example, if you are selling clothing, the product page's title should be unique and include the type of clothing with high-priority keywords at the start since these titles are best optimized within 60 characters.
Another type of meta tag is the meta description, a summary of your page that appears under the title on the Search Engine Results Page, or SERP. It should be between 150 and 160 characters, so be purposeful with your writing. It's a good idea to perform A/B testing to see which of your meta descriptions get the most clicks.
6. Practice internal linking to keep visitors on your site
When you use internal linking, you put a link on your page that links to another page on your site. This practice increases a user's session time on your site, reduces bounce rates, and helps Google to understand your site better.
For example, when you post a new blog, include a link to an older blog you've posted.
If you post enough valuable content, other sites will start linking back to your site, otherwise known as gaining backlinks. And this can gradually build up your website's authority, resulting in better search engine rankings.
7. Lay out a seamless information architecture
If you want users to be able to make sense of your content, you must structure the parts of your site with a seamless information architecture, which is like the backbone of your website.
Identify your users and then structure your content around their needs and goals.
Use flowcharts and maps to plan the structure of your site. Remember that not every user will enter your site from the home page. Keep choices to a minimum so users don't feel overwhelmed.
8. Use relevant keywords in your design for better ranking
When it comes to keywords, it's better to naturally and strategically place the keywords than to overstuff your content randomly. The keywords help Google understand your niche and show your site to more potential customers.
It's essential to use keywords for URL optimization, too. Best SEO practices include avoiding capital letters and underscore.
Create an SEO friendly website with StatenWeb
If you use best practices for SEO website design, you have a higher chance of matching algorithms set by search engines and ranking higher.
Be focused on your choices for the structure of your site, and the user experience will be better.
At StatenWeb, we show customers clever ways to incorporate SEO strategies into web design for a higher ranking. Sign up now for a free website consultation, and we will help you attract more website visitors and to keep them coming back.