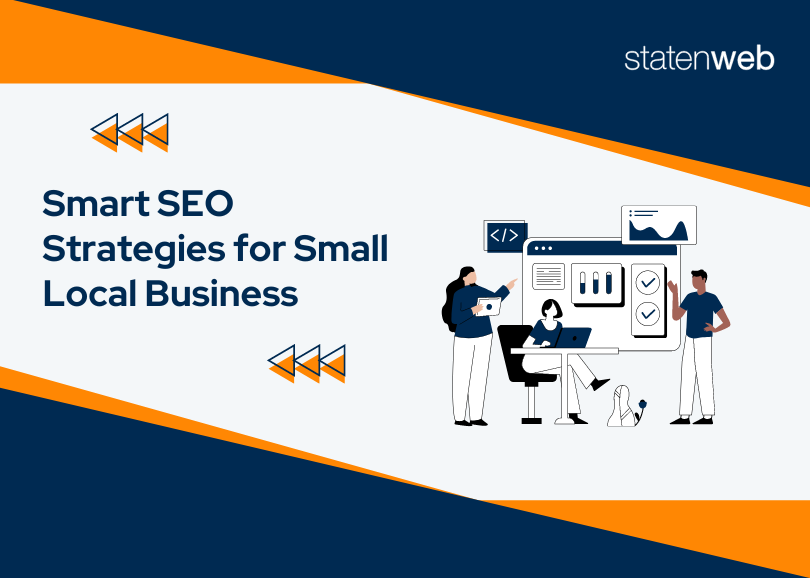 Every small business owner knows that visibility and brand awareness significantly impact business success. If a business isn't well-known in its community, it is likely; customers will instead patronize competing small businesses or large conglomerates like Amazon.
To avoid the pitfalls of invisibility, local SEO is one of the most important strategies a small business owner can leverage to improve search engine visibility. But why does SEO matter for brick-and-mortar businesses? Simple: 46% of all online searches seek local information—meaning that residents of a particular city or community are likely to look up products or services offered in their backyard.
By applying powerful local SEO techniques to your business strategy, you stand a better chance of increasing your traffic and keeping your doors open.
What is Local SEO?
SEO (search engine optimization) is optimizing website content for search engine visibility. During a Google inquiry for a specific product, service, or keyword, the first several links listed at the top of the search results are top-ranked pages that enjoy the most visibility. They are also the most SEO-friendly.
For local SEO specifically, search engines generate the most popular results for a specific geographical area to connect with nearby searchers. This helps make the competition more balanced for small businesses that would otherwise have to compete with large, well-known corporations.
Websites can use several SEO techniques to improve their ranking, which we explore exhaustively here. Here's a brief rundown of some of the most effective local SEO strategies.
Local SEO Tips & Techniques
Prioritize NAP Consistency
NAP stands for "name, address, phone number" and refers to the places across the internet where this information is located and accurate. NAP information could live on a business's website, as well as Google, social media, and online directories.
Why must a business's NAP details be consistent across web pages? It impacts local SEO—potentially a lot. This is because search engines designate a "confidence score" for businesses with any online presence, which reflects the search engine's confidence that a business exists.
When NAP information is missing or inconsistent, a business's confidence score decreases, as does its SEO ranking. Fortunately, this is a relatively easy aspect of local SEO to control. To ensure accuracy, business owners should check all listed business phone numbers and addresses (particularly for multiple locations). The way a business's name appears is also relevant and should be written the same way every time.
Claim and Fill Out Your Google Business Profile
Another simple strategy for boosting local SEO is claiming and filling out a business profile on Google. This reasonably straightforward process can be completed in minutes, though the verification process may take longer.
To claim a business, open Google Maps, type the name of the business into the search bar and select your establishment. Once you follow the verification prompts and confirm, complete your business profile thoroughly. It's also a good idea to add some high-quality pictures to give customers a clear picture of your products or service.
A Google Business profile increases visibility and makes a company more easily searchable, making it an excellent way to boost local SEO.
Get Reviews—and Keep 'Em Coming
Good customer reviews speak for themselves. In addition to attracting new customers, Google likes reviews because they give a business more credibility, ultimately increasing its confidence score. Reviews are a great, organic way to improve local SEO, and responding to and interacting with customers further helps rankings.
Growing a following and receiving reviews takes some time, but business owners can expedite the process by:
Directly asking both new and loyal customers for reviews;
Offering small incentives in exchange for a review (e.g. $10 off their next service);
Sending customers a link via email makes it convenient for them to leave a review (and acts as a reminder for them).
Get Listed in Local Search Directories
Though some argue that directory sites are less relevant than they were ten years ago, business owners can still improve their local SEO ranking by getting listed in local search directories. These sites are virtual catalogues that commonly feature business entries, offering increased visibility to local businesses.

Today's most popular directories include Google My Business, Yelp, Facebook Pages, Instagram for Business, and the LinkedIn Company Directory. To appear on these sites, businesses should pursue listings by reaching out with all relevant business information, which can help paint a clear picture of what a company does.
Generate Content
Finally, business owners can enhance their local SEO ranking by producing high-quality content. Whether this takes the form of blogs, articles, or content for social channels, content is an easy way for customers to interact with the business and an opportunity for business owners to solidify their standing in a community by connecting with their neighbours.
Business owners should consider optimizing their content by using strategic keywords to improve local SEO rank. One effective way to do this is by selecting high-ranking keywords that are location-specific (e.g. the name of the city or the product or service a business offers followed by the city name).
With so much at stake, entrepreneurs would do well to implement some of these local SEO tips and strategies to boost their online visibility. By taking these few simple steps, businesses can enjoy greater recognition and an increase in revenue.