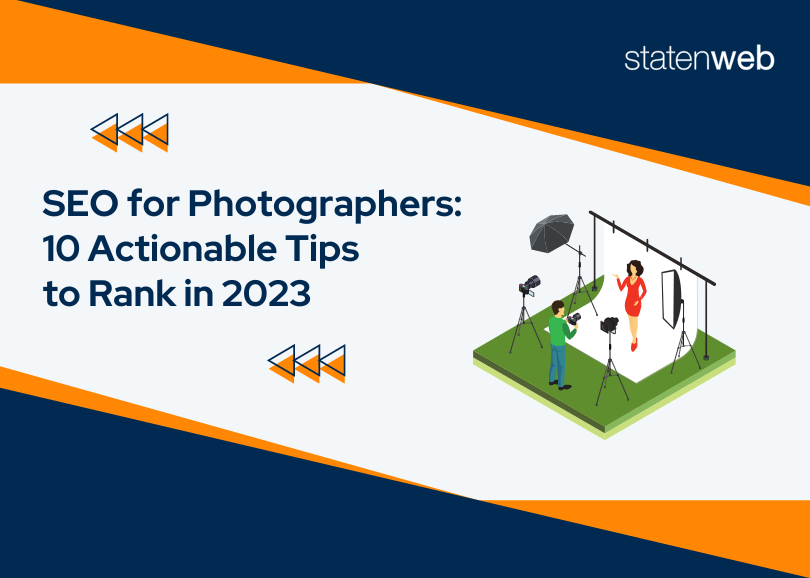 Photography is an artform, but there's also a science behind it–especially when it comes to your business.
Rise Above Research forecasted the total of photos taken in 2023 will reach nearly 1.6 trillion. As a photographer, your photos mustn't get lost in this tremendous sea of photos.
To achieve success, engaging in on-site SEO to optimize your website is crucial. Additionally, it's recommended to implement off-site SEO tactics by utilizing external sources to enhance your online visibility, increasing your chances of being found by potential customers.
Here are 10 actionable SEO tips we've compiled to help you rank this year as a professional photographer.
1. Website Design
The first impression you give clients when they visit your website is directly related to the site's design. Clients are looking for a professional, trustworthy photographer, and your site should prove you are one.
Make it visually appealing: Use an eye-pleasing color scheme and layout with readable fonts to attract visitors and keep them engaged.
Ensure it's easy to navigate: Organize the content into different sections and use a clear and simple menu so potential clients can easily locate information.
Keep it fast: Speed is essential when it comes to website design. Verify that your site loads quickly to avoid losing visitors.
Make it interactive: An interactive website engages your audience. Let people share their thoughts and opinions through comments, forums, and social media.
Mobile-friendly design: A significant percentage of website visitors use mobile devices. Create a mobile-friendly site by using responsive web design.
If you incorporate these tips, your customers will want to return to your site repeatedly!
2. Target Audience
The best photography websites are geared towards their niches.
When creating a successful photography website, identifying and understanding your target audience is one of the most critical factors. Knowing who your ideal customer is can help you create content that speaks to them, uses the right tone of voice, and showcases the type of photography that interests them the most.
As a photographer, you likely have a specific niche or specialized style, such as weddings, newborn shoots, portraits, or other types of photography. By understanding the type of photography you're passionate about, you can create a website that reflects your unique style and caters to your target audience's preferences.
For example, if your target audience is primarily engaged couples searching for a wedding photographer, your website should feature your best wedding photography work prominently, showcasing your ability to capture special moments and emotions on their big day. On the other hand, if you specialize in newborn photography, your website should have a more intimate, delicate feel to attract new parents looking for a photographer to capture their baby's first moments.
By tailoring your website to your target audience, you can make a stronger connection with potential clients and increase the chances of converting them into paying customers. This can result in increased bookings, and more successful photo shoots that ultimately help grow your photography business.
3. Keywords
Ponder some topics related to your photography business that you believe your potential clients will type into a search engine.
Then, use a keyword research tool like Semrush or AHREFS to narrow the topics down to specific keywords for photography, and be sure to use these words on your website.
You must be precise and use exact keywords. For example, keywords like "newborn photography" are probably too broad, so it would help to add your location.
You may also find that "newborn photographer in New York" is a more popularly searched phrase than "newborn photography in New York." Be specific and intentional.
4. Optimize images
As a photographer, your photos are the root of your business. Suppose you take beautiful 4k photos at a wedding, but your images won't load on the site due to a temporary problem.
You should include alt text for each of your images, which is the text that appears to users that describes the missing images. The text also helps search engines rank your site.
Another way to optimize images is by creating title tags, which users see when hovering over your photos. Consider creating title text that utilizes keywords for another way to engage your potential clients.
Don't be afraid to use a variety of–title tags for photos from the same event. You can even use title text for a CTA, such as "Book a wedding photographer in San Francisco."
To ensure mobile-friendly photos, you can optimize them before posting to your website by lowering the resolution and photo sizes.
5. Lossless compression
You may be thinking you don't want to sacrifice the quality of your photos when you optimize them, and you don't have to!
Using lossless compression when shrinking the images is recommended so you don't lose important data.
This method will increase the efficiency of your files by using an algorithm. It ensures minimum or zero page loading speed loss.
6. Optimize titles & descriptions
Titles and descriptions are vital in displaying information that appears in organic search results. To increase your chances of ranking well, it's crucial to optimize them by using relevant keywords, making them engaging, and keeping them at an appropriate length.
For instance, when crafting a meta description for your website, it's recommended to stick to 155-160 characters.
A well-written meta description might read, "Looking for a portrait photographer in Boston? With over 15 years of experience, I specialize in capturing high-quality portraits. Contact me today to learn more."
The above meta description is 117 characters and effective because it's specific, establishes authority, and includes a clear call-to-action.
7. Client photo gallery
Including a client photo gallery on your website is a great way to showcase your photography skills and build credibility with potential clients. Having a collection of photos available for people to view before hiring you can also help establish your authority in the field and provide valuable insight into your style.
Galleries are especially useful for wedding photographers who want to highlight their unique skills and showcase their approach to capturing special moments.
8. Local SEO
As a photographer, you are probably looking for ways to stand out. You can accomplish this goal by focusing on local SEO strategies.
For local SEO, search engines generate the most popular results for a specific geographical area to connect with nearby searchers. Your business ranks higher when you use local SEO techniques, such as having a strong Google Business Profile and posting customer reviews.
9. Social media
Have you ever found yourself scrolling through Facebook or Instagram and suddenly coming across captivating photos?
An easy way to gain this type of visibility is by using social media to your advantage. Consistently post samples of your work, as well as related content and potential customers are bound to see it.
10. Link building
Another great way to build trust with potential clients is by using link building, which is the process of getting other websites to link to pages on your site. It can help improve your photography website's ranking on search engine results pages (SERPs) and increase traffic to your site. Here are some tips for building quality links to your photography site:
Partner with local businesses and other photographers in your area
When you take photos at events, you make connections. Reach out to these local businesses and even other photographers to establish partnerships that can help promote each other's work on your respective websites. This can help build relationships within the industry and generate backlinks to your website from other reputable sites.

Submit your work to online photography communities
Participating in online photography communities, such as Flickr, 500px, or Instagram, can help increase your exposure and generate links to your website. You can attract a larger audience by sharing your work on these platforms.
Create and publish high-quality content
By creating high-quality blog posts, tutorials, or guides related to photography, you can attract other websites to link back to your content as a valuable resource. Post this authentic content regularly; other sites will start noticing.
Utilize social media platforms
Sharing your work on social media platforms like Facebook, Twitter, and LinkedIn can help increase your visibility and drive traffic to your website. By creating shareable content, you can encourage your followers to link to your website and generate backlinks to your site from social media platforms.
Offer guest posts on other websites
Consider offering to write guest posts for other photography websites, which can help promote your work to a broader audience and generate links to your website. By establishing yourself as an authority in your field, you can attract more links and increase your website's authority.
StatenWeb CTA
By implementing these SEO tips for photography and leveraging the expertise of StatenWeb, you can drive more organic traffic to your website, ultimately resulting in increased customer acquisition.
This blog is a beginner's guide to SEO for photographers, as new strategies are constantly emerging.
At StatenWeb, we specialize in creating custom WordPress website themes for photographers like you. If you're interested in learning more about our services and having us design your picture-perfect photography website, feel free to contact us today!