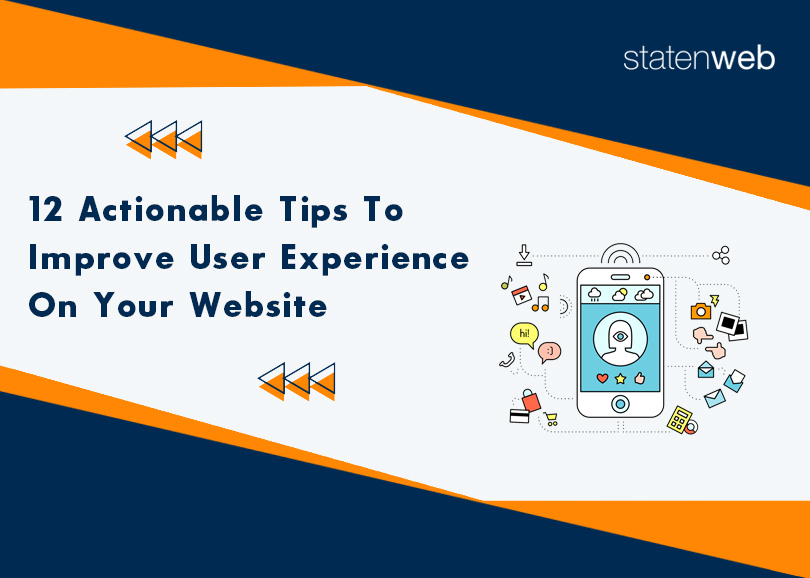 The success of your website depends on a well-planned, engaging, great user experience (UX). It should be built around ease of use, accessibility, and a clear purpose.
According to a recent study, frictionless UX design could raise customer conversion rates by up to 400%.
You can start increasing your organic website traffic and length of sessions today with our 12 actionable tips for web design.
1. Mobile-friendly website
With more than half of website traffic coming from mobile devices, it's critical that your website is mobile-friendly to ensure a better user experience.
Google crawls your website for desktop and mobile devices, so a poor design will frustrate your visitors and decrease your search engine ranking.
You can place buttons in the centre of the screen where users' thumbs can easily access them.
2. Use white space
A cluttered website is hard to navigate. Utilize white space between elements to increase usability.
This white space does not necessarily have to be white; any neutral color can simplify your pages for potential customers.
You can use many UX design ideas to make your website user-friendly, such as increasing space between lines of text. To further improve readability, increase margins with white space. Place images above or below the text instead of in line with the text.
3. Easy website navigation
Does your site seem like a maze that could be easier to navigate? If so, you must change your navigation, or frustrated visitors will quickly leave your site.
Use refinements to allow users to break down their search by specific products or characteristics to complete more efficient searches. For example, if you sell clothing, have separate sections for each persona, such as men, women, or children. Then, further break the categories down by types of clothing like shirts, pants, accessories, etc.
4. Logical and consistent hierarchy
The key to good website design is that it makes sense. Design your homepage and subsequent web pages in logical ways by thinking about the search engine optimization (SEO) needs of the site.
First, consider your site's crawlability or ability to appear in search results. You can't reach the next level of needs, such as indexability until the first is met.
5. Use clear, concise text
Website visitors want to find out if you can solve their problems quickly. By using consistent fonts in a chosen color scheme, users will recognize your brand and your professionalism.
Keeping text concise and keyword-rich will boldly and efficiently bring your point across to users.
You can use other techniques, such as bullet points and shorter blocks of text.
6. Appropriate use of color and contrast
If your website is too dark or your font colors blend in with your background colors, the visitors will need help understanding its content.
A best practice is to select eye-pleasing colors for your layout. You can use a tool such as Color Safe to determine if your chosen colors and contrast are appropriate.
Stick with the blue font for links and bold fonts for essential aspects such as headings or calls to action.
7. Avoid Flash and other intrusive advertising
Users do not like having ads forced upon them when visiting a website. According to a 2019 study, autoplay video ads with sound were the most annoying type of online ad for users.
In addition, using Flash can cause problems on some devices where it is not supported. Flash also comes with a slew of security issues. It's a better idea to use HTML5 Canvas, a more efficient alternative that will decrease your bounce rate and help users to have the best experience possible.
8. Use sound effects sparingly
As mentioned above, many users find sound effects distracting and a nuisance. Sound effects may lower website speed as well.
You shouldn't rely on sound effects to relay a message because if a user has the sound off, they will not hear it. Instead, you can include sound in optional videos or other clickable elements on the page.
9. Use fonts that are legible on all devices
Some fonts will slow down your website and be hard for some people to read, especially if the users already have vision loss or reading difficulties.
You don't want fonts to stand in the way of you and your target audience, so only use fonts that are accessible on all devices. The most accessible fonts to improve the user experience on your website are Tahoma, Calibri, Helvetica, Arial, Verdana, and Times New Roman.
10. User experience research
Think about who your website is for when you design your user interface. To give yourself an advantage over your competitors, incorporate the best ways to meet your users' needs.
You can find out more about your users' needs by surveying them or doing some research on Google. Then, you can highlight those needs during the design process so that your users can easily find your suggested solutions.
11. Ask for feedback
Your current customers are a powerful tool for your business. Consider including a survey on your website where they can rate the user experience of your website.
Include questions about favorite features and possible enhancements. You can add an open-ended question for any additional suggestions they have. For example, if a large percentage of customers report a dead link or say that your color scheme is too dark, you should make the changes as soon as possible.
12. Post quality content
Content marketing is a way to reach more customers and increase your online presence. You can post blogs with relevant content written with language familiar to your target audience.
High-quality content is critical to small businesses since posting it is an opportunity for business owners to solidify their standing in a community by connecting with their neighbors.
Improve the user experience on your website with StatenWeb
When visiting your website, potential customers hope to have a pleasant website user experience, gaining insightful information in the easiest way possible.
Contact StatenWeb today; we can help improve your website's user experience with these 12 tips and more. Prioritizing and optimizing the user experience will generate more leads and increase your conversion rate.